VPN service is a crowded field, but ClearVPN has a number of qualities that distinguish it from the competition. Get a year of online protection for 80% off!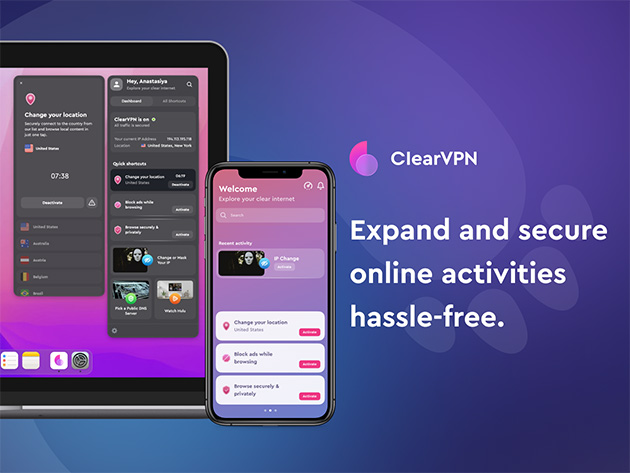 With ClearVPN you'll be able to log on with the comfort of knowing that your data is protected and that you can enjoy your online interactions without worry.
Why not make your web-surfing a lot safer, particularly if you are logging into to a public network such as at an airport or library? By downloading ClearVPN not only will you be able to expand and secure your online activities hassle-free thanks to its AES-256 encryption and cutting-edge protocols, but you will enjoy a host of other benefits as well.
Its Dynamic Flow technology will ensure that you are always connected to the fastest server so you can enjoy increased security and speed. You will have access to unlimited streaming no matter where you are in the world, with no restrictions. You won't be bothered with annoying ads and will be protected against malware. With their strict no-logs policy, none of your data is stored or shared anywhere. In short, you can remain anonymous online, but still reap all the benefits of the internet.
Rated 4.7/5 on Trustpilot, this is a VPN that stands out from the rest. As Trekrider lauds, "Finally, the world saw a normal, intuitive, working VPN, and even in a beautiful wrapper." Suitable for both iOS and Mac OS, get a 1-year subscription to ClearVPN Premium Plan today for only $29.99, an 80% discount off its $155 MSRP, and download it on up to six devices.
Prices subject to change.