---
Digital Marketing & SEO Bundle – Master Facebook Ads, Email, SEO, Growth Hacking & More Essential Marketing Skills with 62.5 Hours of Training
Extra 50% off this bundle with code "LEARN50" at checkout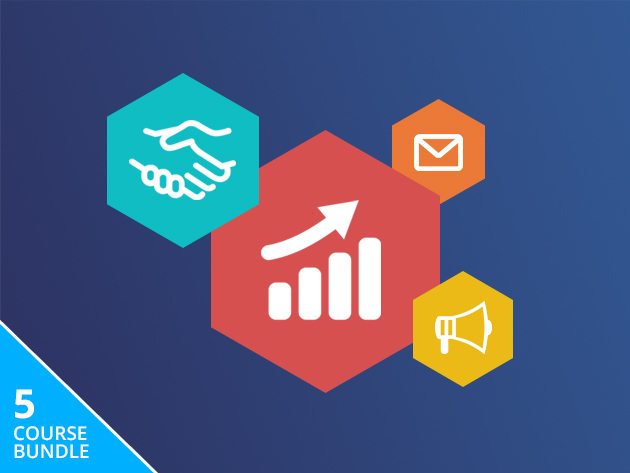 This e-Learning bundle collects the following online courses:
Build Your Brand: Blogging, SEO, Social Media & Relationships – Brand building is a must in today's economy, whether you're promoting a business or scoping out new career opportunities. You'll learn how to craft a strong web presence by cultivating a large audience for your WordPress and social media accounts, ultimately ensuring that more people know who you or your company are all about.
The Complete Facebook Ads and Facebook Marketing Course – There's no question Facebook marketing is an essential part of any modern marketer's job description. This course will teach you how to profit from Facebook Ads, instead of throwing money at it carelessly. You'll learn how to get a super low cost per click and nail down ways to generate recurring revenue every month. So if you want to make big money with little upfront cost—or just build a strong audience base—this course is for you.
Digital Marketing Management – This in-depth training includes 22 hours of content taught by seasoned marketing experts in order to deliver a complete digital marketing management experience. Learn proven strategies, and the costly mistakes to avoid, to become a top performer in your company or score a new position altogether. From copywriting to analytics to social media to email marketing, you'll benefit from a well rounded look at what creates an ideal customer experience that drives growth, revenue, sales, and an overall positive web presence.
Learn How To Grow Your Business With Email Marketing – The power of email marketing is real, and it is growing. Building an email list is the single most important thing most small businesses can do to not only build an audience, but to re-engage it. This course will teach you how to build an email list, run a marketing campaign, and drive traffic to your web presence to generate more business. Whether you're a small business owner, or just have an interest in marketing, this one is for you!
The Complete Growth Hacking & Conversion Course – Growth marketing is essential to any business because, well, growth is essential. It's arguably even more essential for web-based companies, however, that require high conversion rates from the customers they can reach. This course will teach you invaluable methods to generate more business leads and convert them into profitable business with greater efficiency. Start growing!
Digital Marketing & SEO Bundle is available at IGB DEALS
Extra 50% off this bundle with code "LEARN50" at checkout