---
From March 2nd, get Furi, Bomber Crew, Epistory – Typing Chronicles, Whispers of a Machine and Mugsters if you're subscribed to Amazon Prime. If not, get a free trial and claim the games anyway!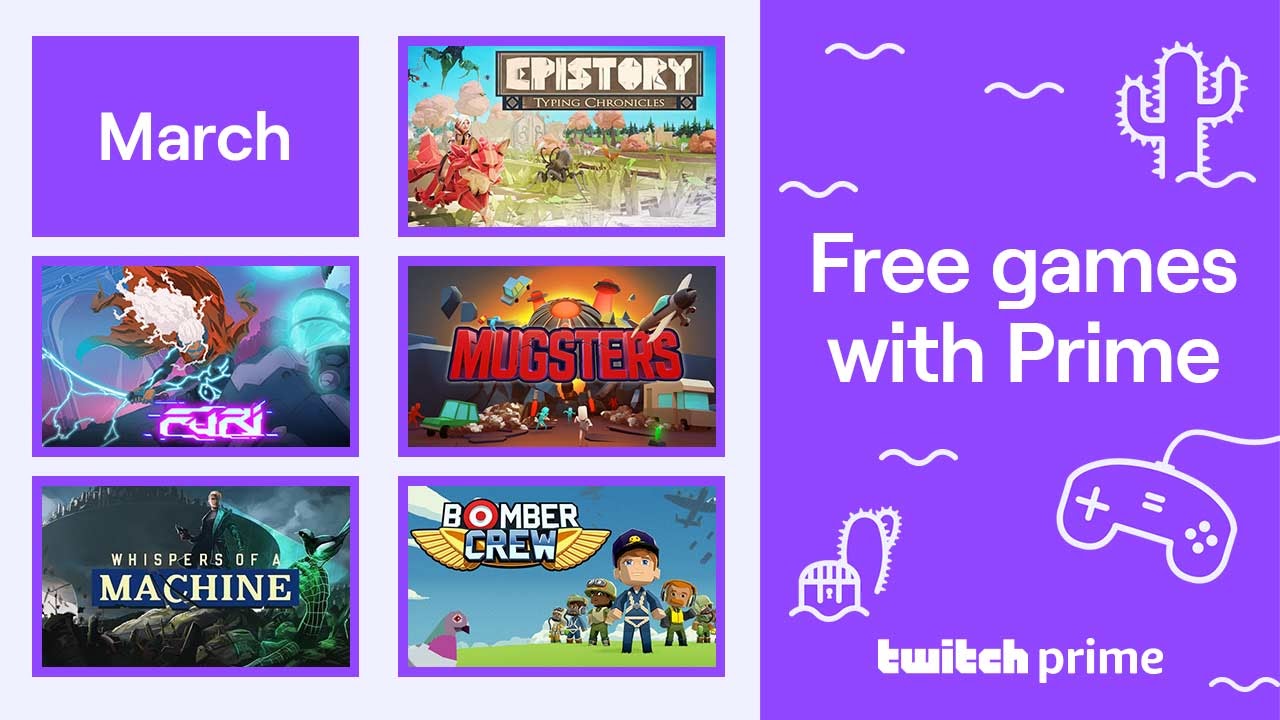 List of free games anyone with Twitch Prime can get for free during March:
action shoot 'em up game Furi from The Game Breakers
strategic simulator Bomber Crew from Runner Duck
action-adventure typing game Epistory – Typing Chronicles from Fishing Cactus
sci-fi Nordic noir Whispers of a Machine from Raw Fury
physics-based puzzler Mugsters from Reinkout
Twitch Prime members can also claim a number of in-game loot items, including for titles such as Sea of Thieves, League of Legends, Teamfight Tactics, Magic: The Gathering and more.
Also, Bungie is teaming up with Twitch Prime to bring Prime members six months of Exotic gear drops for Destiny 2. Each drop will contain four rewards, including Exotic weapons, Ghosts, ships, Sparrows, emotes and weapon ornaments from previous Seasons.
How To Get the March 2020 Prime Games for free:
Starting March 2nd, you'll be able to claim and play all of free games for this month; and once you claim a game, it's yours to keep forever.
To get all the games listed above, just subscribe to Amazon Prime (that also includes Twitch prime) FOR FREE. After the initial free month (that you can cancel anytime), Amazon Prime costs from $2.99 to $12.99 per month depending on your country, so if you plan to "snatch and cancel", don't forget to unsubscribe!
Follow these step-by-step instructions to grab your free games now!
Be sure that your Amazon Prime account has been enabled with Twitch Prime (you'll need to connect your Twitch account to your Amazon account).
Head over to https://www.twitch.tv/ and log-in to the Twitch account that you have enabled Twitch Prime on.
Click on the crown icon in the top right of the page.
Scroll to each free game and claim the offer. You'll need to install the Twitch Desktop App to get to your games.
That's it! Enjoy!