Humble Seven Deadly Sims Bundle launched on August 18, at 11:00 am PST and lasts through September 01, 2021. Pay what you want and support charity!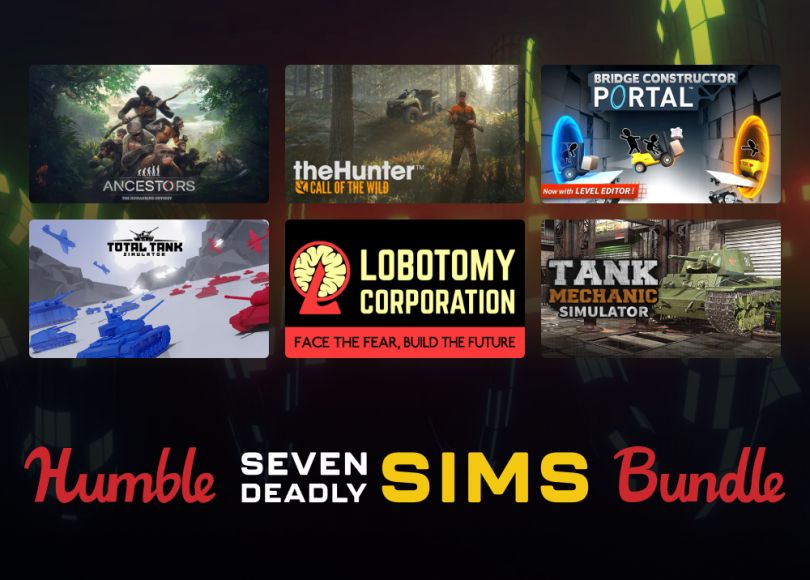 Hunt, survive, build bridges, repair tanks, and much more in the Seven Deadly Sims bundle!  Ever wondered what it'd be like to be a hunter? How about surviving in space or in the earliest years of humanity's time on Earth? What would you do if you were asked to repair a tank?
Find the answer to those questions and more besides, with great sim games like Ancestors: The Humankind Odyssey, Lobotomy Corporation, and theHunter: Call of the Wild.
Choose one of 3 tiers; the more you pay, the more Steam keys you get:
1st Tier: Pay $1 or more to get Bridge Constructor Portal
2nd Tier: Beat the average price to also receivetheHunter: Call of the Wild, Police Stories and Total Tank Simulator
3rd Tier: Pay $12 or more to get the top tier of games, including all the games in the first two tiers plus Tank Mechanic Simulator, Ancestors: The Humankind Odyssey and Lobotomy Corporation
All games are delivered as Steam keys. Normally, the total cost for the games in this bundle is as much as $126.63
Buy The Humble Seven Deadly Sims Bundle here
DISCLAIMER: We use affiliate links for Humble Bundle, so if you want to support us (or if you don't, that's fine as well), you can click on the "Adjust Donation" button at Humble to fine tune where your money goes.