Put the pedal to the medal in this collection of Steam racing games,
including Assetto Corsa Ultimate Edition and Automobilista 1 and 2, among others.
 This PC game bundle is available until March 30th 2022.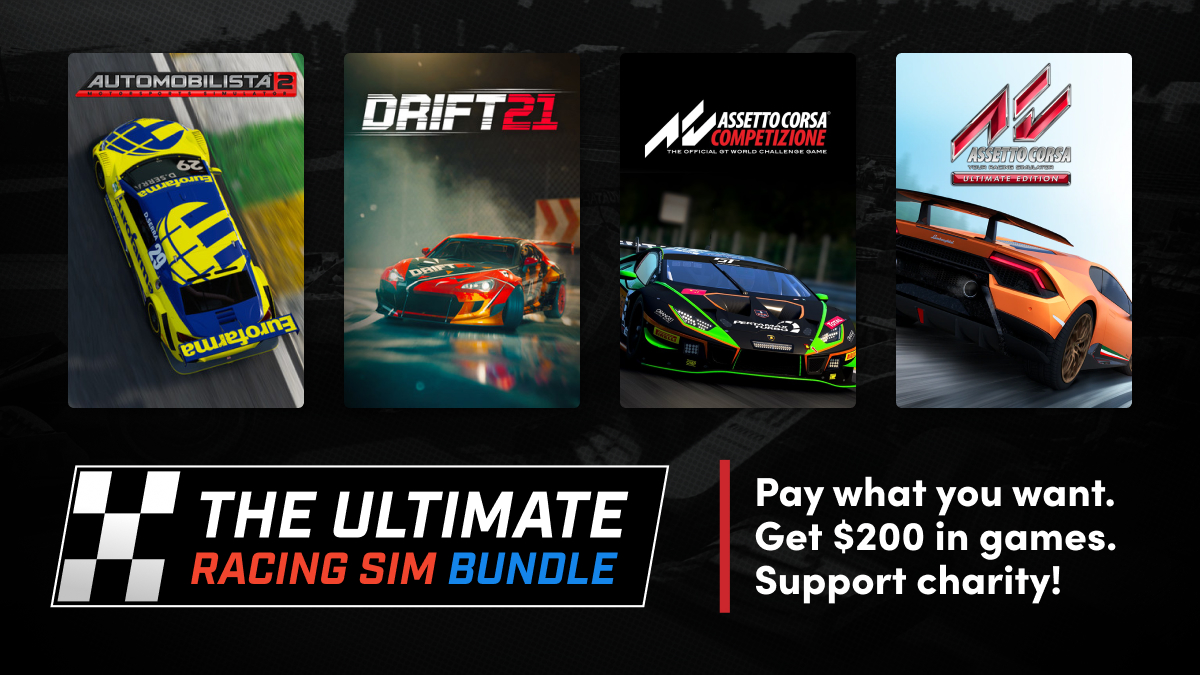 Ride the slipstream around the globe in this bundle of the most authentic, comprehensive, and acclaimed racing sims around! Experience the realistic thrill and atmosphere of the GT3 championship in the VR-supported Assetto Corsa Competizione.
Buckle up for the comprehensive Brazilian motorsports sim Automobilista 2 (VR supported). Score a 3-month iRacing membership—your ticket to competitive online motorsports featuring NASCAR, IndyCar, Aussie Supercars, and more (VR supported). Tune your dream drift car and take on Japan's legendary EBISU circuits in DRIFT21. Immerse yourself in the racing realism of rFactor 2 (VR supported).
You can also get an exclusive 20% discount on Thrustmaster T248P and T150 racing wheels to take your driving experience to the next level. Plus, your purchase helps support JDRF and DirectRelief!
Choose one of 3 tiers; the more you pay, the more Steam keys you get:
All games are delivered as Steam keys. Normally, the total cost for the games in this bundle is as much as $200.
Buy Humble The Ultimate Racing Sim Bundle here
DISCLOSURE: IndieGameBundles uses affiliate links for Humble Bundle posts. If you like what we do and want to support us, you can click on the "Adjust Donation" button at Humble to fine tune where your money goes.