Humble Bundle has announced that two new games, Fae Tactics and Archvale were just added to the Humble Games Collection/Humble Trove in the new Humble App.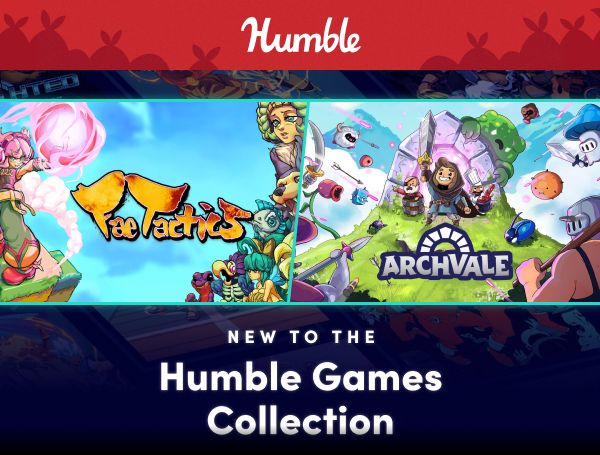 GAMES NEW TO THE COLLECTION IN APRIL:
In Fae Tactics you can summon allies, cast spells, and befriend a motley crew of characters as you dive into the growing conflicts between man and magical beings known as fae.
In Archvale you and you alone can defeat the Undying and rid the world from the dark shadow the king has left. Journey across diverse regions, looting and crafting your way to better weapons and equipment. Through these upgrades you will be able to succeed against the host of enemies that await you and stand between you and the truth about the said-to-be-mythic arch to Archvale.
GAMES LEAVING THE COLLECTION:
While Archvale and Fae Tactics are new to the collection, this month no games were removed from the Humble Games Collection.
---
Note that not all games in Humble App are DRM-free games. The games are split into two categories, The Games Collection and The Humble Trove.
The Humble Games Collection (DRM): A growing number of Humble Games published titles are available only with an active Choice membership through the Humble app.
The Vault (DRM-free): The Vault includes over 50 Humble Original Games. Once downloaded on your PC, these games can be accessed regardless of Choice Membership status.
Besides the new game added to the list, Humble Games Collection already has a huge library of great games: Wizard of Legend, Void Bastards, Forager, Dodgeball Academia, Unsighted and much, much more.
At this moment, there are 50+ games available to download at the Humble App.
The Humble Games Collection/Humble Trove is an exclusive perk for Humble Choice members. Download DRM and DRM-free favorites from the Vault through the 
all-new Humble app
 for Windows PC.
---
You can buy the Humble Choice for April 2022 here and get Ghostrunners + Destroy All Humans and more for $11.99 / €9,99! + over 50 games in the Humble Trove!
IGB is Humble Partner, which means that a very small percentage of potential bundle sales might also go to us and help us pay the bills – and will cost you nothing. If for any reason you don't want to support IndieGameBundles, you can always opt out or remove us using the slider on the Humble Bundle page.