Rufus! What a jackass!
Still, you will learn to love that selfish, lazy and arrogant $"!#%$ by the time you have finished with all 3 Deponia titles, mixed into one HUGE package in Deponia: The Complete Journey.
Now, let me get this out of the way – if you enjoyed the old LucasArts adventures like The Monkey Island or Day of The Tentacle, you will love Deponia. Yup, it's that good! Kudos to the people at Daedalic – they managed to make an adventure game series with so much heart I'm sure it will be considered a classic in the years to come.
I don't want to spoil the story too much, just a quick premise: You're Rufus, a no-good troublemaker hellbent on escaping Deponia; a planet filled with junk and little else. During your journey, you will fall in love, cause even more trouble and maybe even groove on the dance floor?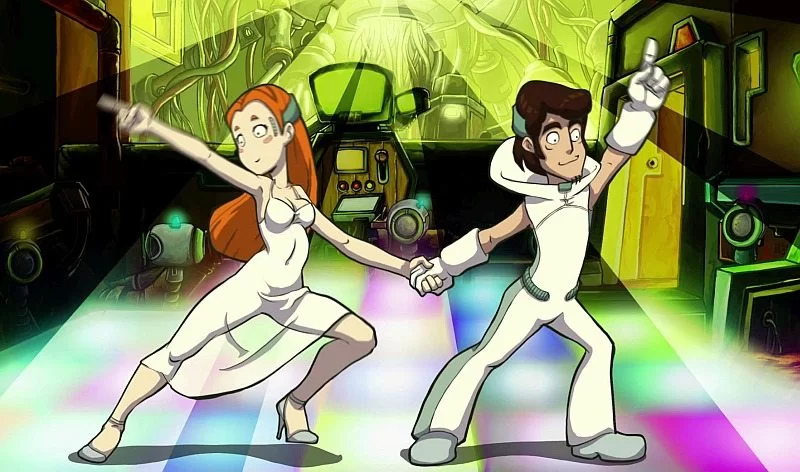 Each character, from the main characters of Rufus and Goal, to secondary characters like Doctor/Firefighter/Policeman Gizmo and a huge guy that dresses like a woman and goes by the name of Lotti, are memorable, well written and voiced. No remarks there.
Now let's talk about the puzzles in the game. The inventory is accessed by scrolling the mouse down, a original feature and pretty useful – I would like to see more games implementing this. There, as in other point and clickers, you can check out and combine items, or use them on the environment. A lot of puzzles make sense – use the picture of a cow to make the mechanical bull turn around, put the red sheet over the picture to make him angry. Still, I was stuck on a few of them and had to Google the walkthrough. In 50% of those cases I would facepalm myself and say "how didn't I think of that". But, in other 50% I would think "now, that I would NEVER figure out".
Post office puzzle, I'm looking at you!
Deponia The Complete Journey includes all 3 Deponia games; Deponia, Chaos on Deponia and Goodbye Deponia mixed together into one super-long adventure game. Other features that come with the package are a pretty interesting optional developer commentary with interviews with the cast members, behind the scenes videos, art, soundtrack and other goodies.
Final Score: 8.5/10