---
Feeling a little nostalgic? Low on cash? Or you simply just want to replay some of the great classic games you loved all those years ago? Look no further!
EDIT: Updated from the original 12 to the current 31! Added on June 3rd 2020; Ascendant, Delores: A Thimbleweed Park Mini-Adventure and War Wind
Check out 31 free games you can download right now on GOG – Good Old Games:
A classic 1994 point and click adventure featuring over a 100 locations designed by Dave Gibbons. One of our personal favorite point and click adventures of all time.
Lo Wang. The very name strikes fear in fortune cookie-eating Mafia men and small children everywhere. He is the reason most ninja wannabees have sold off their combat sandals to the local pawn shop. Lo Wang is Shadow Warrior. #1 Assassin. #1 Yakuza abuser. #1 Freak fragger. #1 Mutant mutilator. #1 Reason to be scared of the dark.
Flight of the Amazon Queen could be described as Monkey Island meets Indiana Jones – the game puts you in the role of Joe King, a pilot of the titular airplane who finds himself in greater-than-life adventure set in the jungles of Amazon – versus a mad scientist trying to take over the world.
Made by the creators of Broken Sword games, Lure of the Temptress is a short fantasy point and click adventure about a young peasant called Diermot who finds himself fighting against the temptress Selena and her army of Skorls, an orc-like race of warriors.
5. Stargunner
Stargunner was the last game published by the legendary Apogee software, makers of such classics as Duke Nukem, Comander Keen and Wolfenstein 3D, before changing their name to 3D Realms.
6. Teenagent
From the creators of Gorky 17, Teenagent is a classic point and click adventure game about a teenager that unwillingly becomes an agent of a mysterious organization. Kind of bizarre and pretty damn funny.
Treasure Adventure Game is a metroidvania style game where you explore countless islands in search of legendary treasure. It features a bunch of islands to explore, secrets, treasure, upgrades, npc's, sidequests and multiple endings.
8. Tyrian 2000
Tyrian 2000 is a shmup (shoot em up) game, featuring a full story mode, an arcade mode playable in 2 player couch co-op, minigames, timed battle mode and even more modes of utter destruction.
9. Ultima IV: Quest of the Avatar
Ultima IV: Quest of the Avatar is arguably the Ultima game that launched the series into cult status. With a serious story, player choices and an amazing world to explore, Ultima IV deserves to be called one of the best RPG games to date.
10. Worlds of Ultima: The Savage Empire
Based on a modified Ultima VI engine, Worlds of Ultima: The Savage Empire is a story about you – the Avatar (not Aang) who gets transported into a wild and savage land filled with giant ants, monsters, wild tribes and thick jungles.
11. Ultima: Worlds of Adventure 2: Martian Dreams
Just like Worlds of Ultima: The Savage Empire, it's a departure from the standard sword and magic setting. It's a risky move no one would dare to do it in today's gaming world. Just imagine a new Dragon Age game on Mars. Yup. No way. Also, the game features Nikola Tesla, George Washington and Rasputin. On Mars.
12. Eschalon: Book I
Waking up in a strange place with no memory of who you are, you must undertake the difficult and arduous journey of finding out who you really are. The only clue you have is a hastily written note telling you to meet a stranger in the nearest town. Thus begins your first step into the wondrous and dangerous world of Eschalon: Book I.
13. Jill of the Jungle: The Complete Trilogy
She's beautiful. She's brave. She knows her way around a jungle. She is fighting the most difficult battle of her life. And all 3 of her classic games are now free on GOG!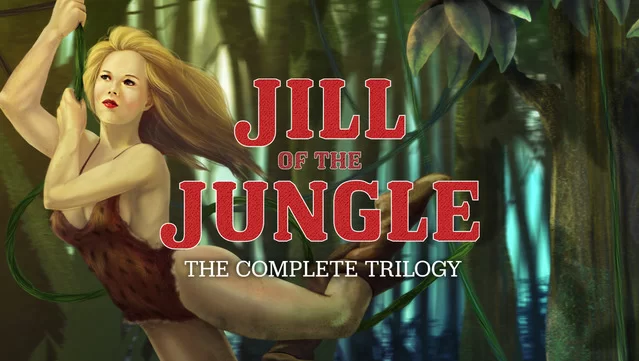 Developed in 1979, Akalabeth is the first game made by the legendary creator of the Ultima Series, Richard Garriot. Designed by the teenage Garriot in Applesoft BASIC for the Apple II, Akalabeth is one of the earliest known examples of a computer role-playing game, and is considered by many to be "Ultima 0." Featuring 10 different monsters, procedurally generated dungeon crawling, and wire frame 3D graphics, Akalabeth was highly advanced for its time and is still widely regarded as one of the most historically significant RPGs ever created.
The story takes place before the events from Alder's Blood and changes the perspective from Chief of the Hunters – to a commoner, named Charles.
Charles, as everyone else in this cruel world, is struggling to stay alive. Daring his luck, out of bravery or desperation – he aims for a quick buck and attempts to hunt the spawns of darkness. If he'll survive – income from reselling the remains of the beasts will secure his livelihood for weeks to come.
16. Bio Menace
Bio Menace is an exciting Duke Nukem-inspired, shoot everything that moves-style action game.
Groundbreaking: Developed using a game engine developed by Id Software, designers of Quake.
A Delight to Fight: Fantastically-animated creatures to kill, menacing robotic enemies to outwit and big boss creatures to battle!
Nukem 'n' Dukem: Non-stop, Duke Nukem-style, kick-'em-in-the-butt, shoot-everything action!
Secret Weapon: An arsenal weapons at your disposal – plus four secret weapons and maneuvers.
Save Your City: Three skill levels, joystick support, game saves, hidden areas and more.
17. Builders of Egypt: Prologue
Builders Of Egypt is an economic type of city-building taking place in the valley of the Nile. The story starts in a little-known protodynastic period in which you will be able to observe the birth of the Old Egypt and finished with the death of Cleopatra VII.
18. CAYNE
CAYNE is a point-and-click, isometric horror adventure game with a modern edge.
A gritty experience awaits. STASIS was only the beginning of a much larger story.
Help panicked and anxious Hadley find her feet and brave stomach-churning situations to break free, by solving puzzles in this FREE horror adventure game.
Mike Singleton's '84 classic Adventure Strategy game, brought to and updated for Windows.
"The Lords of Midnight is not simply an adventure game nor simply a war game. It was really a new type that became known as an epic game, for as you play the Lords of Midnight you will be writing a new chapter in the history of the peoples of the Free. You will guide individual characters across the land of Midnight on vital quests but you will also command armies that must endeavour to hold back the foul hordes of Doomdark, the witch king. Yours will be no inevitable victory." – Mike Singleton 1984.
Mike Singleton's '85 classic Adventure Strategy sequel to The Lords of Midnight "It is many moons now since the Lords of Midnight first appeared out of the soft, wearing gloom. Those of you who took up their challenge and rode with them to battle against the cruel Witchking will need no reminding of that epic struggle. But now a new epic tale unfolds, the story of Doomdark's Revenge.
21. GWENT: The Witcher Card Game
Join in The Witcher universe's favorite card game! In GWENT, you clash with your friends in fast-paced duels that combine bluffing, on-the-fly decision making and careful deck construction.
Play your cards right and manage a two-row battle formation as you unleash your hand over a best-of-three series of rounds. With heroes, spells and special abilities that dramatically turn the tide of battle, deception and clever tricks will be necessary parts of your arsenal.
22. Hello Neighbor Alpha Version
The Pre-Alpha & Alpha 1 of Hello Neighbor is a completely free "early demo" of the Stealth Horror Game. It features a very basic house and basic gameplay elements. It's been developed as a proof-of-concept that it is indeed possible to make interesting gameplay with the premise of breaking into your neighbor's house, and having the AI learn from your moves.
Expect to get glitches, crashes, and unfinished features, but also a good bit of free fun.
23. Legend of Keepers: Prologue
Legend of Keepers: Prologue is a free playable alpha demo of Legend of Keepers. It's a tactical dungeon management game where you play as the bad guys! You're the Boss of the Dungeons Defending Department and need to protect the company's treasures against pesky heroes! This version of the game contains around 1-2 hours of gameplay and introduces Legend of Keepers mechanics, lore building and game strategy.
24. Overload – Playable Teaser
Overload is a new six-degree-of-freedom shooter from the creators of Descent. This Playable Teaser gives a taste of game including one single-player-style level and two Challenge Mode levels. Earlier versions of this demo were released in March 2016 and March 2017. Features included in the version are essentially the same as they will be in the full version.
25. Sang-Froid: Tales of Werewolves
Combining action and strategy in a unique way, Sang-Froid: Tales of Werewolves transports you into an epic folktale co-written with best-selling Canadian author Bryan Perro (Amos Daragon, Wariwulf), in which two feuding brothers will have to put aside their differences to save their sister, who is pursued by the Devil himself!
26. Sunrider: Mask of Arcadius
As Captain Kayto Shields, embark on a galactic voyage of heroism and survival. With his home world destroyed and his nation conquered, the inexperienced Captain Shields, and his newly minted vessel, the Sunrider, are left as the only hope against a galactic evil intent on subjugating all sentient life. Together with his loyal First Officer, he undertakes to find allies across the stars to retake his home planet and restore peace to the galaxy.
Banned in over ten countries, realistic, non-stop-killing, action-strategy psychological thriller. No aliens, no mutants, no stupid quest for the dragon's balls. Just good antisocial, psychotic shoot-'em-up action, strategy and government intervention.
Blast, maim and fire-bomb your way through 17 levels (plus 4 new levels and 24 new characters in the expansion pack).
28. Vagrus – The Riven Realms: Prologue
Vagrus is an award-winning Roleplaying Game with strategy elements, where the player takes the role of a vagrus – a sort of a caravan leader, who makes a living on a strange and dangerous dark fantasy world by leading a traveling company on all kinds of ventures.
29. Ascendant
Ascendant is the unforgiving beat 'em up that challenges you with a new world each time you play. It utilizes a number of modern roguelike elements such as permadeath and procedurally generated environments. You are a demigod who invades a plane controlled by your rivals. They will stop at nothing to eliminate you. Only the most impressive warriors will triumph over their armies of zealots and beasts.
30. Delores: A Thimbleweed Park Mini-Adventure
Delores: A Thimbleweed Park Mini-Adventure started out as a prototype for Ron Gilbert's new point-and-click adventure game engine and grew into a fun little game. It is not a sequel to Thimbleweed Park and is probably missing all of the small bells and whistles that would make it a commercially viable game. So, enjoy it for free!
31. War Wind
War Wind allows you to view this epic struggle through the eyes of four unique races, each with its own strengths, weaknesses and distinctive A.I. A real-time strategy masterwork, War Wind features 28 ready-to-play scenarios. A powerful Scenario Editor that allows you to place units and build new battles. And a story of such compelling depth you won't believe it's just a game.
That concludes our list, if new games are added and we missed them, or some games are not free anymore please let us know in the comments below and we'll update the list! Enjoy playing!
---
Want more free PC games? Follow us on Twitter, Facebook or Steam to get a notification of future free game giveaways