For the new Spring 2017 box go here
Square Enix Surprise Box Holiday 2016 – For only $9.99, get the Square Enix 2016 Holiday Surprise Box featuring over $80 worth of exciting titles for your holiday gaming needs!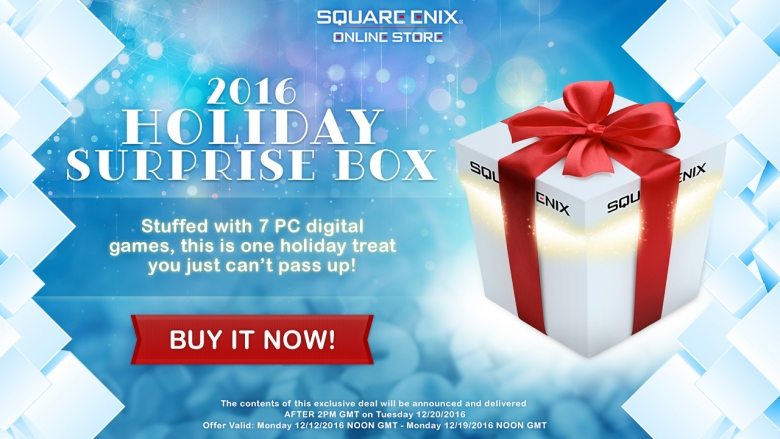 With this digital box, you'll receive 7 PC download games and a special Square Enix Store promotion for a bundle that's too good to miss out on!
The contents of this exclusive deal will be announced and delivered after 4 am PST on December 20th, 2016.
Square Enix Surprise Box Holiday 2016 will cost you $10 for NA market or 6.5€ for EU market
So what's in it? EDIT –  It has been revealed:
Lightning Returns: Final Fantasy XIII
Goetia
Legacy of Kain Soul Reaver 1 & 2
Hitman Intro Pack
Hitman Go: Definitive Edition
Tomb Raider Underworld
20% off next purchase
50% off Hitman upgrade
Only time will tell but here's what was in the previous boxes:
2013 Christmas Box
Just Cause 2
Hitman: Blood Money
Tomb Raider
Dungeon Siege III
discount voucher
2014 Christmas Box
Thief – The Master Thief Edition
The Last Remnant
Murdered: Soul Suspect
Lara Croft: Guardian of Light
Deus Ex – The Fall
Nosgoth Founders – Warlord Pack
discount vouchers
2015 Easter Box
Life is Strange Episode 1
Just Cause collection
Hitman Absolution Elite Edition
Deus Ex GOTY edition
2015 Christmas Box
Lara Croft and the Temple of Osiris
Thief
Final Fantasy XIII
Life is Strange Episode 1
Final Fantasy XIV: A Realm Reborn
discount vouchers
2016 Easter Box
FINAL FANTASY® VIII
FINAL FANTASY® XIII-2
Quantum Conundrum
Sleeping Dogs Definitive Edition
Deus Ex: Human Revolution – Director's Cut
discount voucher
(thanks to gegeru for making a list)
So what do you think? Worth a buy, worth a risk? Let us know in the comments below!