Games under $1 – Yes, we also love some cheap games! Here's a list of good games, in no particular order, that we could find discounted at $1 or less! If some game is not discounted at your region, sorry.
We'll try to update this list daily – if you see some deals are no longer available or if you found an amazing deal, let us know in the comments below!
10. Car Mechanic Simuator 2014 (Steam, $0.99) – Now you can own and operate your own auto repair service with PlayWay's Car Mechanic Simulator 2014. Car Mechanic Simulator 2014 gives you the behind the scenes view of the daily dealings at local garages and dealership repair shops. Very positive reviews.
9. A New Beginning – Final Cut (Steam, $0.99) – A New Beginning is a cinematic adventure-thriller done graphic novel-style with Mostly Positive reviews on Steam.
8. The Silent Age (Steam, $0.99) – Lose yourself in The Silent Age, the thrilling point-and-click adventure with over seven million mobile downloads, completely revamped and updated for PC. Very Positive Reviews.
7. Razenroth (Steam, $0.49) – Razenroth is an action shooter with a dark atmosphere, enriched with the elements of roguelike and RPG. All the levels, weather conditions, distribution and quantity of key elements are generated randomly. Thanks to this fact, a single game is different each time.
6. Distraint (Steam, $0.99) – DISTRAINT is a 2D psychological horror adventure game for PC. You step into the shoes of an ambitious young man named Price. In order to forge a partnership from a famous company, Price seizes the property of an elderly woman. In that very moment he finds out the price of his humanity.
5. Dead Effect (Steam, $0.99) – Fight for your life in the INDIE SCI-FI FPS game fit for both casual and hard-core gamers with a passion for hunting down hordes of zombies. Prepare yourselves for the incoming nightmare!
4. Invention 2 (Steam key, $0.84) – While you were on the island exploring the underground laboratory, the infection was busy spreading throughout the world.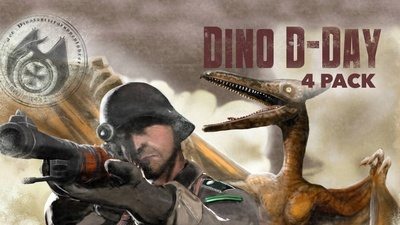 3. Dino Day 4-Pack (Bundle Stars, $1.99 – $0.50 per Steam key) This 4-Pack adds three extra copies of the game to your Steam Inventory to give to your friends!
2. Splice ($0.99, Steam Key) – Splice is an experimental and artistic puzzler. Immerse yourself in its microbial world and start splicing! Every level ("strand") consists of a number of cells that you will need to rearrange into a target structure in several moves ("splices").
Spec Ops: The Line, Sid Meier's Pirates! and GMG Mystery Pack (Steam keys, 3 games for $1) – Vote in the Golden Joysticks and you'll get your money back (£1/$1/€1) if you play Spec Ops: The Line. Note that you will have to, quoting, "wait a few weeks" for the games but for $1 we think this is the best deal out there.
Enjoy Playing!