---
Epic Games is giving away FREE copies of Watch Dogs 2 starting September 17th and lasting until Thursday, September 24th 2020.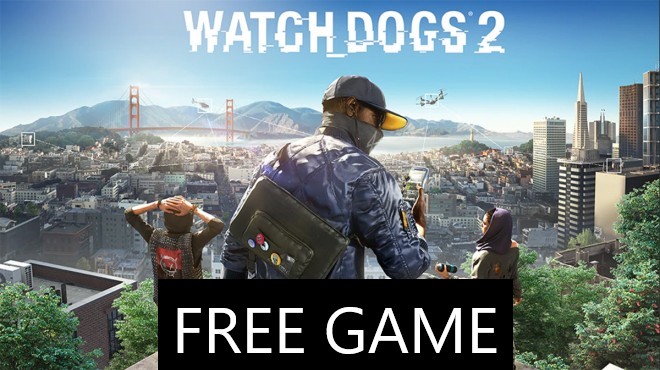 Epic has announced that they will keep the weekly free game giveaway throughout 2020 – make sure to follow us on Twitter, Facebook or Steam to get a reminder when each new free game giveaway launches!
ABOUT THIS WEEKS FREE GAME AT EPIC GAMES STORE:
Play as Marcus Holloway, a brilliant young hacker living in the birthplace of the tech revolution, the San Francisco Bay Area.
Team up with Dedsec, a notorious group of hackers, to execute the biggest hack in history; take down ctOS 2.0, an invasive operating system being used by criminal masterminds to monitor and manipulate citizens on a massive scale.
Explore the dynamic open-world, full of gameplay possibilities
Hack into every connected device and take control of the city infrastructure.
Develop different skills to suit your playstyle, and upgrade your hacker tools – RC cars, Quadcopter drone, 3D printed weapons and much more.
Stay seamlessly connected to your friends with a brand new co-op and adversarial multiplayer Watch Dogs experience.
Watch Dogs 2 (Steam version) has Very Positive reviews, it usually costs $59.99 but will be available for free at Epic Games Store until September 24th 2020. Get it for free at this link.
TLDR; JUST TELL ME HOW TO GET THIS GAME FOR FREE:
Head over to Epic Games Store or navigate to the game in their launcher before September 24th 2020, add the game to your cart and checkout. Simple as that. After that, the game is yours to keep, and play, forever.
Make sure to check in next Thursday for the next Epic Games Store free game!
---
Want more free PC games? Follow us on Twitter, Facebook or Steam to get a notification of future free game giveaways
To see what other free games we wrote about, check out the Freebies category.