---
Take a chance to win $1,000 worth of food through DoorDash, the popular delivery service of fine ― and not so fine ― cuisine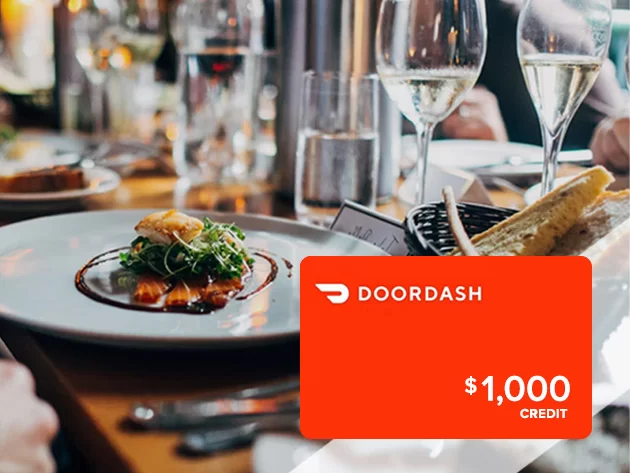 Chances are good you've been missing your favorite restaurants lately. After all, if your community isn't already locked down, then it's probably restricted in some other way. That makes going out to eat especially difficult. Want a way to get the food you love without having to leave home or spend money that you don't have? Then you'd be wise to enter The $1,000 DoorDash Gift Card Giveaway.
This giveaway is open to US citizens over 18 years of age
The $1,000 DoorDash Gift Card Giveaway is about as self explanatory as they come. Enter your email address into this limited time draw and you could walk away with a gift card that entitles you to $1,000 worth of food through DoorDash, the popular delivery service of fine ― and not so fine ― cuisine. Yes, that's all there is to it. No, there are no catches. Just enter, win, and eat.
DoorDash, for anyone that's been living under a rock, might be America's number one food delivery service. They offer an expansive platform that provides access to restaurants from all over your community — and doesn't ask you to leave the comfort of your living room. Even if you want something from that new Thai restaurant across town, DoorDash can get your order to you lightning quick. And, given the current health crisis, they even offer deliveries that minimize contact, which is a huge plus too.
If this all sounds intriguing, then you'll be glad to know that entering couldn't be easier. Just go to The $1,000 DoorDash Gift Card Giveaway contest page, sign up for a free membership, and claim your complimentary contest entry. Done deal. And, if you want to improve your chances of winning, then you'll even have the option of referring a friend. Entice them to enter as well and you'll earn a bonus entry for your trouble.