---
UPDATE: Twitch Prime is now called Amazon Prime Gaming!
Welcome to the August 2020 Prime Gaming update! Be sure to read on below for the latest free games and loot offerings for Twitch Prime members!
In August, Amazon Prime is offering 23 FREE games for members, including 14 SNK games, five Free Games with Prime titles and four bonus games from the month of July!

Additionally, new in-game loot will be available for popular triple-a releases, including Apex Legends, Red Dead Online, Grand Theft Auto Online, DOOM Eternal, League of Legends and much more!
All of these offers can be claimed by visiting: gaming.amazon.com/tp/loot
As a reminder, Prime Gaming members can still claim titles from the first batch of SNK games, including: 
Art of Fighting 2
Blazing Star
Fatal Fury Special
The King of Fighters 2000
The King of Fighters 2002
Pulstar
Samurai Shodown II
The second collection of SNK games includes the following:
Metal Slug 2 – The sequel to one of the most popular arcade shooters ever, Metal Slug 2 improves upon the original run and gun title, offering new features, weapons and vehicles.
SNK 40th Anniversary Collection – This compilation features 24 incredible games from SNK's beloved arcade library including Ozma Wars, Baseball Stars, Beat Busters and more.
Shock Troopers: 2nd Squad – Play as one of four mercenary characters in the sequel to the 2D top-down view action shooting game and fight your way through bullet hell.
Baseball Stars 2 – Lace up your cleats and step onto the diamond with the pros in this classic arcade baseball game.
Sengoku 3 – Experience this side-scrolling beat 'em up classic arcade game to save the world from the evil spirits wreaking havoc.
Ironclad – Blast your way through thrilling stages in this 1996 side-scrolling shoot 'em up game.
King of the Monsters – Fight your way against giant monsters in this classic wrestling game first released in 1991.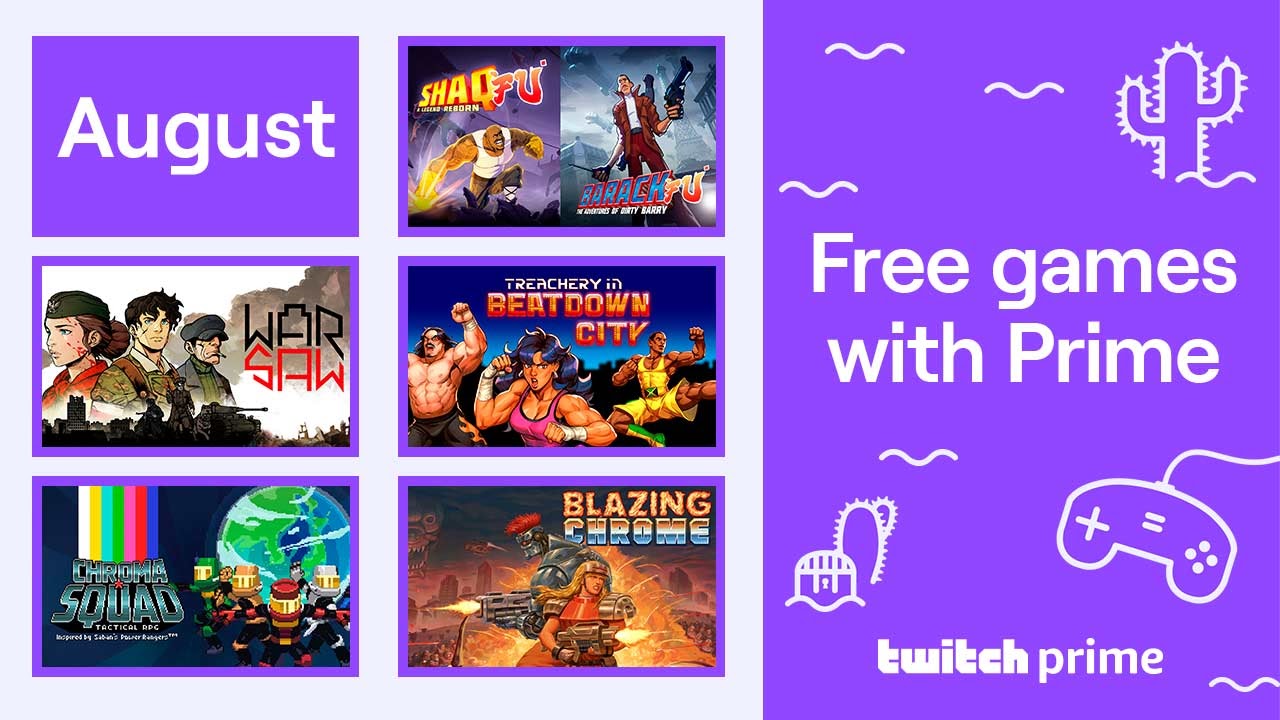 New Batch of Games is Available from Monday, August 3:
Shaq Fu 2
Warsaw
Treachery in Beatdown City
Chroma Squad
Blazing Chrome
UPDATE: And even more games have been added:
Tempest
The Inner World
Truberbrook
Dead in Vinland
How To Get the August 2020 Prime Games for free:
Starting August 3rd, you'll be able to claim and play all of free games for this month; and once you claim a game, it's yours to keep forever.
To get all the games listed above, just subscribe to Amazon Prime (that also includes Prime Gaming) FOR FREE. After the initial free trial period (that you can cancel anytime), Amazon Prime costs from $2.99 to $12.99 per month depending on your country, so if you plan to "snatch and cancel", don't forget to unsubscribe!
Follow these step-by-step instructions to grab your free games now!
Head over to Amazon then click on the "Start your 30-day free trial" button to create your account
Head over to Prime Gaming, login with your new Amazon account and click on the "Link Twitch Account" in the upper left corner
Claim all the "Games with Prime" and any other goodies you want. They are now yours to keep forever!