11. Ultima: Worlds of Adventure 2: Martian Dreams
Just like Worlds of Ultima: The Savage Empire, it's a departure from the standard sword and magic setting. It's a risky move no one would dare to do it in today's gaming world. Just imagine a new Dragon Age game on Mars. Yup. No way. Also, the game features Nikola Tesla, George Washington and Rasputin. On Mars.
12. Eschalon: Book I
Waking up in a strange place with no memory of who you are, you must undertake the difficult and arduous journey of finding out who you really are. The only clue you have is a hastily written note telling you to meet a stranger in the nearest town. Thus begins your first step into the wondrous and dangerous world of Eschalon: Book I.
13. Jill of the Jungle: The Complete Trilogy
She's beautiful. She's brave. She knows her way around a jungle. She is fighting the most difficult battle of her life. And all 3 of her classic games are now free on GOG!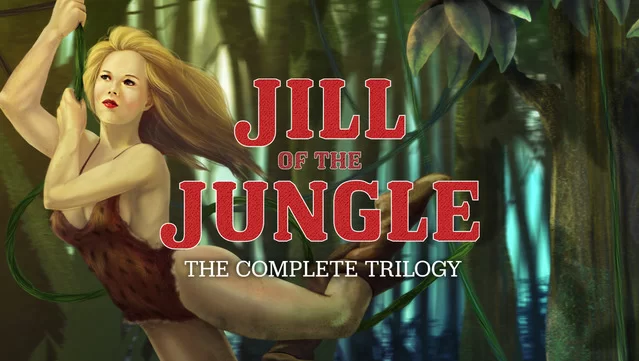 Developed in 1979, Akalabeth is the first game made by the legendary creator of the Ultima Series, Richard Garriot. Designed by the teenage Garriot in Applesoft BASIC for the Apple II, Akalabeth is one of the earliest known examples of a computer role-playing game, and is considered by many to be "Ultima 0." Featuring 10 different monsters, procedurally generated dungeon crawling, and wire frame 3D graphics, Akalabeth was highly advanced for its time and is still widely regarded as one of the most historically significant RPGs ever created.
The story takes place before the events from Alder's Blood and changes the perspective from Chief of the Hunters – to a commoner, named Charles.
Charles, as everyone else in this cruel world, is struggling to stay alive. Daring his luck, out of bravery or desperation – he aims for a quick buck and attempts to hunt the spawns of darkness. If he'll survive – income from reselling the remains of the beasts will secure his livelihood for weeks to come.
16. Bio Menace
Bio Menace is an exciting Duke Nukem-inspired, shoot everything that moves-style action game.
Groundbreaking: Developed using a game engine developed by Id Software, designers of Quake.
A Delight to Fight: Fantastically-animated creatures to kill, menacing robotic enemies to outwit and big boss creatures to battle!
Nukem 'n' Dukem: Non-stop, Duke Nukem-style, kick-'em-in-the-butt, shoot-everything action!
Secret Weapon: An arsenal weapons at your disposal – plus four secret weapons and maneuvers.
Save Your City: Three skill levels, joystick support, game saves, hidden areas and more.
17. Builders of Egypt: Prologue
Builders Of Egypt is an economic type of city-building taking place in the valley of the Nile. The story starts in a little-known protodynastic period in which you will be able to observe the birth of the Old Egypt and finished with the death of Cleopatra VII.
18. CAYNE
CAYNE is a point-and-click, isometric horror adventure game with a modern edge.
A gritty experience awaits. STASIS was only the beginning of a much larger story.
Help panicked and anxious Hadley find her feet and brave stomach-churning situations to break free, by solving puzzles in this FREE horror adventure game.
Mike Singleton's '84 classic Adventure Strategy game, brought to and updated for Windows.
"The Lords of Midnight is not simply an adventure game nor simply a war game. It was really a new type that became known as an epic game, for as you play the Lords of Midnight you will be writing a new chapter in the history of the peoples of the Free. You will guide individual characters across the land of Midnight on vital quests but you will also command armies that must endeavour to hold back the foul hordes of Doomdark, the witch king. Yours will be no inevitable victory." – Mike Singleton 1984.
Mike Singleton's '85 classic Adventure Strategy sequel to The Lords of Midnight "It is many moons now since the Lords of Midnight first appeared out of the soft, wearing gloom. Those of you who took up their challenge and rode with them to battle against the cruel Witchking will need no reminding of that epic struggle. But now a new epic tale unfolds, the story of Doomdark's Revenge.