Get In The Car, Loser!, a lesbian road trip RPG by the co-creator of Ladykiller in a Bind will soon go from free to $10 so get it while you can. Once you claim the game and add it to your Steam library, you can keep it forever.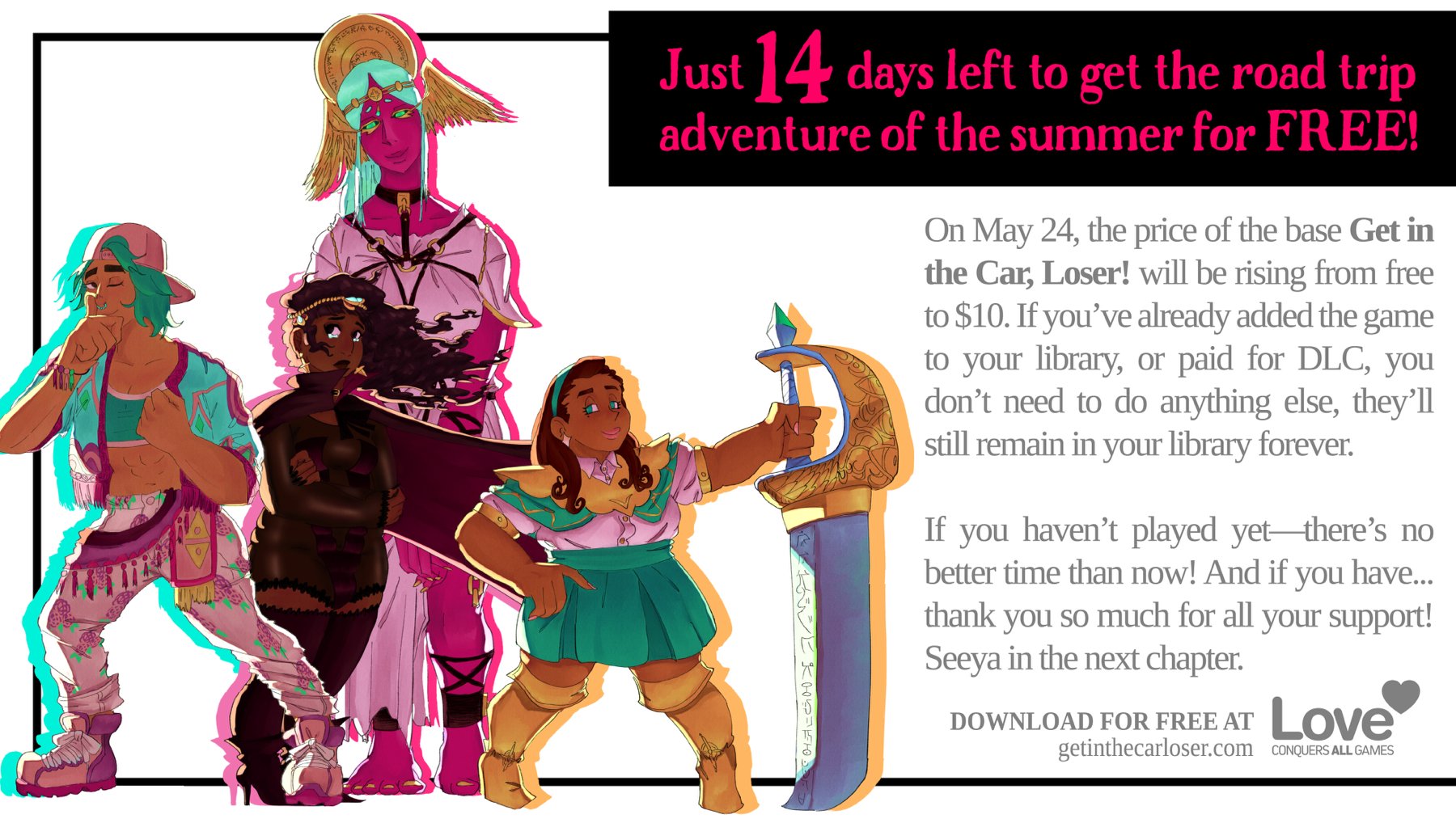 ABOUT THE GAME:
She said "GET IN THE CAR, LOSER! I know you're not up to anything this summer, I've got the Sword of Fate, and there's an ancient evil that needs to be sealed away."
Active time battle system inspired by classic and modern JRPGs—fight strategically and take advantage of each party member's complementary abilities in order to keep momentum on your side and make it through the gauntlet of fights the road throws at you.
Equipment-based character progression system: each item offers different abilities based off what character you give it to, and can be rearranged on the fly at any time between fights to create completely different party builds.
Genre-defying pop soundtrack by Christa Lee, because how can you say it's battle music if it doesn't even bang?
Visual novel inspired dialogue system allows for optimal "shoving your foot in your mouth while shooting the shit in the backseat" experience.
No sidequests, no maps, no codex entries. Who's got time for that when the world is in peril?!
Girls. Just… girls… you know…??? They're great
The Disaster Lesbian Representation We Need
Get In The Car, Loser! has Very Positive user reviews on Steam and you can get it for free before it becomes a paid game on May 24th 2022.
HOW TO GET GET IN THE CAR, LOSER! FOR FREE:
To get Get In The Car, Loser! free on Steam, head over to the Steam Store Page and add it to your account, free of charge! After May 24th, this game will cost $10 on Steam.
Enjoy playing!
---
Want more free PC games? Follow us on Twitter, Facebook or Steam to get a notification of future free game giveaways
To see what other free games we wrote about, check out the Freebies category.