GreenManGaming's Snack Packs are bundles of 6 games each – for only $0.38, making it one of the best deals around.
Oh, and all games are Steam keys.
Get each pack for only $0.38 with the voucher code GRAB25-PERCNT-OFFNOW
Snack Pack 1 contains: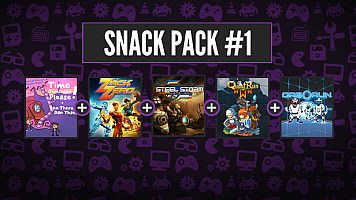 Time Gentleman Please, Ben There Dan That Double Pack
Zack Zero
Steel Storm
QuestRun
Orborun
Snack Pack 2 contains:
Tower Wars
Tidalis
Skara – Starter Pack
Shattered Haven
A Valley Without Wind 1 and 2 Dual Pack
There are a few other GreenManGaming deals going on right now that are worth mentioning, such as:
Mafia 2 Complete Pack – $10.59 (you can use the voucher code on this one too to make the price go down 25%)
GTA V – yes, 25% off works on GTA V as well!
Lego Titles 75% off – a whole bunch of them are on sale