Gameplay Video:
Simulator games are in their hayday to be sure. There's a simulator for everything you ever wanted to be, as well as games for a couple things you had no idea you wanted to be. I Am Bread has become the supreme frontrunner of the latter category in my book. The story is hysterical, told via psychiatrist statements about a man with rooms in his house being destroyed, and swearing that bread can move. The music is spot on, and the controls can take a lot of getting used to, but are completely fair. Made by Bossa Studios, it's not a far throw from Surgeon Simulator, except that it features a wonderfully huge open world to explore, rather than just some dude's chest cavity. You've been a goat, a deer, a gorilla, a farmer, a prisoner, a spaceman, and a rock. Now it's finally time to pinch your inner loaf… Or something like that. Lets take a closer look at I Am Bread.
The first thing you'll probably notice when you get into the game is the strange controls. Q,W,E,R (Or LT/LB RT/LB) are each assigned to a corner of your slice, pressing that button will cause the bread to grab, then you can fling yourself around using your mouse or control stick.  It sounds so simple, but much pain went into perfecting its execution… I'd say it was almost an hour before I became the ninja-bread man I never knew I longed to be. Once you finally stop nudging your bread along like Granny Gumgums, the music starts to click. It's jazzy and quick and it makes my wall-crawling bread feel like he's truly on the most dramatic adventure of his life. Hell, it probably is. It's just a slice of bread after all.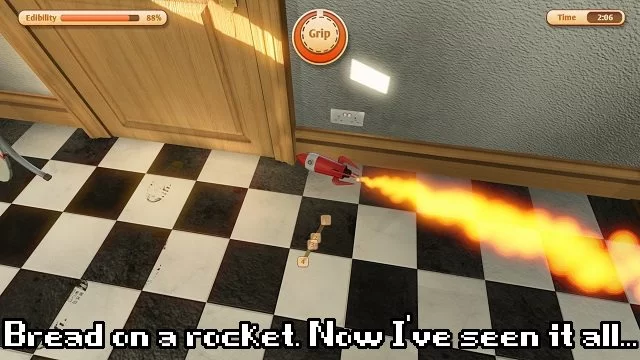 Once you've mastered your abilities, you must complete the mission of getting toasted. Some lowly peons will tell you to use a toaster. Poppycock! I say find the nearest blow-dryer and just do what comes most natural. You also must stay off the floor, and away from gross stuff like trash and dishwater, as it will deplete your edibility bar. Once bread is no longer edible, it's dead. Dead bread. The world is amazingly interactive. Almost everything can be broken or flung across the room via wonky physics, with delightful results! There is only one puzzle, "How can I become toast?", but the answers are multiple, and as creative as you care to make them.
Now the ugly. The game does crash quite a bit… Which made recording at any length a bit frustrating. The controls are strange, but it's likely on purpose, to increase the wackiness. That doesn't do much for the extreme difficulty spike between the first level and the second, but there is time to adjust that as well. I also have to point out that the hardest part is wiggling yourself into the toaster. It caused me SO much heartache… You finally get to the toaster, only to discover that the real struggle has just begun. Overall though, I had a lot of fun with this game, and will likely return to it in the future. The environments are varied, and the freedom to solve a puzzle by riding on a rocket or skateboard, or simply scooting along the rug in a pot amuses me to no end.
Summary: A zany bread-simulator game with an open world and loads of freedom.

Final Score: 7/10 for gameplay, physics, and replayability. 9/10 with smaller difficulty curve.

I Am Bread was released on Steam December 3, 2014

If you enjoyed the review, you can follow me on Twitter, or check out something less wordy via Steam Curator
Or you can join my gaming adventures via Lets Play. Hope to see you there!