The Ultimate Mac Shield Bundle
6 Premium Apps for a Safer & More Productive Mac: Delete Cookies, Hide Sensitive Files & More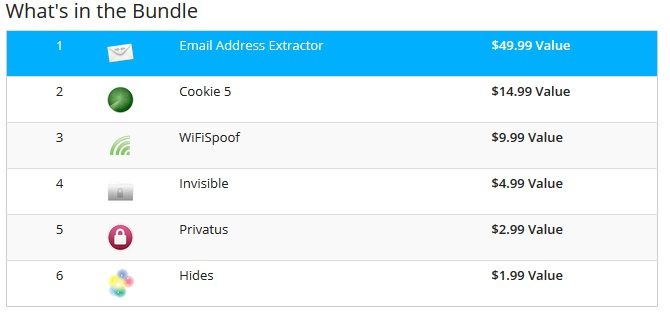 If you need a quick and easy way to compile email addresses in a text file, Email Address Extractor has your back. You'll speedily generate email address lists without any pesky duplicates, saving yourself valuable time and effort in the process.
If you want to ensure your browsing data isn't being used by mysterious third parties, Cookie 5 is your best bet. From enabling advanced detection and removal of cookies to setting up automatic removal schedules, you'll access a rich array of tools to avoid any unwanted invasion of your privacy.
It's easy for hackers and spies to trace Mac users by their computers' MAC addresses—a unique identifier attributable to network-connected devices. Guard your privacy with WifiSpoof, which allows you to easily change your MAC address so you can use public Wi-Fi networks without any worries.
The best way to protect your data against theft? Ensuring it can't be found in the first place. Drop your files in the Invisible app to safeguard your information by hiding it from view. You can even add another layer of security by password protecting your files—then easily reveal them with a single click.
Avoid manually deleting your cookies from your browser each time you finish surfing the Web. This premium app does the work for you after a quick initial setup, automatically deleting cookies for you after each browsing session. Get much-needed peace-of-mind as to the security of your private data with Privatus by your side.
Are you a serial multi-tasker who's got too many apps open at once, and has trouble focusing? Hides will help you concentrate on your task at hand by eliminating them from view, whether by entering Single App Mode or completely clearing your desktop. Make no mistake: you'll be amping up your productivity in no time.
Get the Mac shield bundle over at IGB Deals. An $85 value for only $29.99!