IndieGala is giving away FREE game download of Spring Bonus, an adorable match-3 game that's fun for all family. Get this indie game while it's free and keep it forever.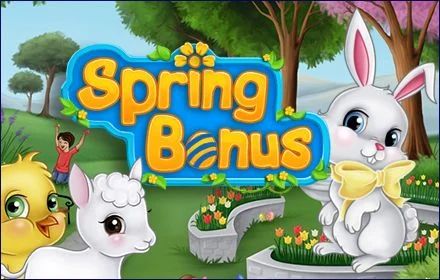 ABOUT THE GAME:
Spring is in the air! Journey through the Spring countryside with your cute animal friends. Help the Easter Bunny light the magic rainbow by melting away the cold grip of Winter.
Featuring fluffy chicks, frolicking lambs and bouncy rabbits, this adorable match-3 game is bursting with bonuses and fun for all the family.
If you liked our previous match-3 games, you have to try this new one out! It contains new features, beautiful graphics and lots of great fun levels. You'll love it!
Features:
Smooth, fun match-3 gameplay.
Cute Spring-themed graphics.
Relaxed or Timed game modes.
Awesome Rainbow-powered Bonus items.
100 unique levels.
Specially composed Spring music.
Can set backgrounds as Desktop Wallpaper (PC only.)
Please Note: This game is not a mobile port. It was built for PC/Mac.
Spring Bonus (Steam version) has Positive user reviews and it usually costs $4.99
HOW TO GET SPRING BONUS FOR FREE:
Just head over to IndieGala Store and select "add to your library". Note that you must be logged in to do this. After you add it to your library you can download it from this page.
This is a DRM-free download, which means you can download the game, back it up and keep it forever without needing any clients such as Steam or Epic Games Store, and it will work on PC and possible Mac and Linux.
---
Want more free PC games? Follow us on Twitter, Facebook or Steam to get a notification of future free game giveaways
To see what other free games we wrote about, check out the Freebies category.