---
Get ready for an electrifying mix between bullet hell and typing game! Epic Games is giving away The Textorcist for free, starting November 12th and lasting until Thursday, November 19th 2020.
Epic has announced that they will keep the weekly free game giveaway throughout 2020 – make sure to follow us on Twitter, Facebook or Steam to get a reminder when each new free game giveaway launches!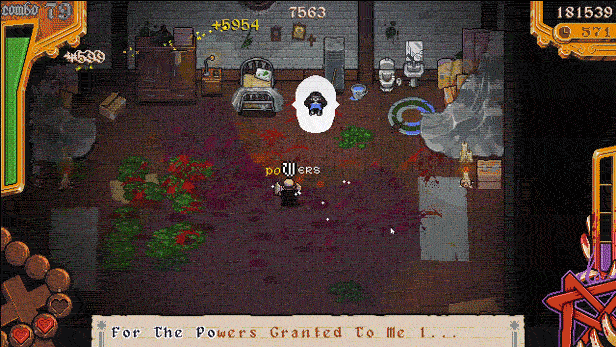 ABOUT THIS WEEKS FREE GAME AT EPIC GAMES STORE:
Get ready for an electrifying mix between bullet hell and typing game! Dodge bullets while typing exorcisms at the very same time: turn on both sides of your brain and jump into the adventure of Ray Bibbia, a private exorcist who's going to face the threats of a demonic outbreak and deal with his dark and sinful past at the same time!
REVIEWS:
"The Textorcist is a punishing, brutally difficult game that feels so good to finally conquer. A truly unique and engaging combat system accompanied by great music make this a memorable experience."
8.5 – Critical Hit
"Faster, more tense, and more exciting than almost any traditional action game. […] The implementation hasn't quite been perfected, but it gets close enough to be absolutely recommended."
4/5 – We Got This Covered
"The Textorcist is the most physically uncomfortable, mentally draining, panic inducing sadist of a game I have ever forced myself to play. And my Holy God is it awesome."
9/10 – GameGrin
The Textorcist: The Story of Ray Bibbia has Very Positive user reviews and it usually costs $14.99 but will be available for free at Epic Games Store until November 19th 2020. Get it for free at this link.
FOLLOW THESE STEPS TO GET THE TEXTORCIST FOR FREE:
Head over to Epic Games Store or navigate to the game in their launcher before November 19th 2020, add the game to your cart and checkout. Simple as that. After that, the game is yours to keep, and play, forever.
Make sure to check in next Thursday for the next Epic Games Store free game!
---
Want more free PC games? Follow us on Twitter, Facebook or Steam to get a notification of future free game giveaways
To see what other free games we wrote about, check out the Freebies category