Pay just $1 to get 6 books on AI and Machine Learning, pay more to support charity and get up to 24 eBooks, readable on any book reader, PC, phone or tablet!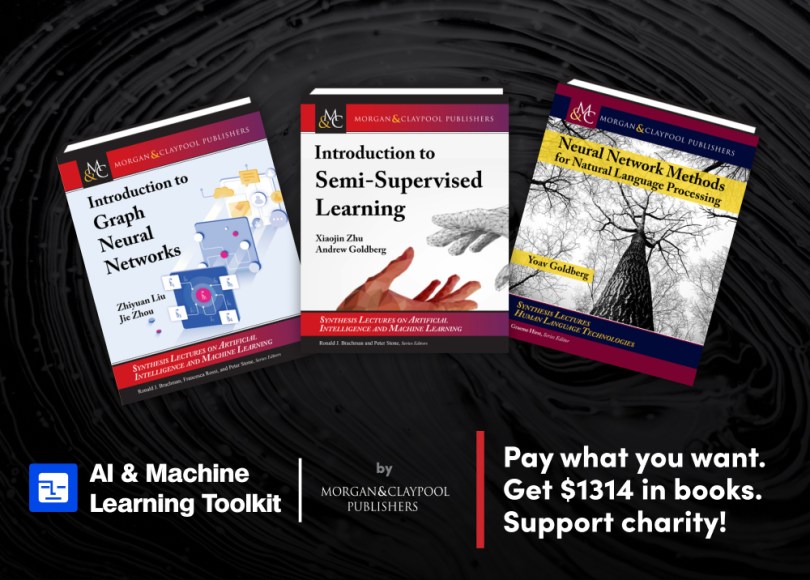 So, this is a bundle full of eBooks? What exactly is in it?
Morgan & Claypool believe that Artificial Intelligence is being integrated and discussed in areas as diverse as politics and healthcare. At the same time, enrollment in computer science has never been higher and students are flocking to AI courses.
To help start your journey in this field, Humble is here to provide you with books like Introduction to Graph Neural Networks, Introduction to Semi-Supervised Learning, and Adversarial Machine Learning.
Plus, your purchase helps support Save The Children!
How much do all these ebooks cost?
Pay $1 or more. All together, these books would cost over US$1314. At Humble Bundle, though, you name your price of $1 for 6 eBooks or add more to increase your contribution and upgrade your bundle!
Where can I buy it?
Humble Book Bundle: AI & Machine Learning Toolkit is available at Humble Bundle until October 28th 2021.
On what devices can I read these books?
Read them anywhere. The ebooks in this bundle are available in PDF, MOBI, and ePub formats, so they work on your computer, e-readers, iPads, cell phones, and a wide array of mobile devices!