Put the pedal to the medal in this re-bundle of Steam racing games,
including Assetto Corsa Ultimate Edition and Automobilista 1 and 2, among others.
 This PC game bundle is an encore – available for 48 hour only!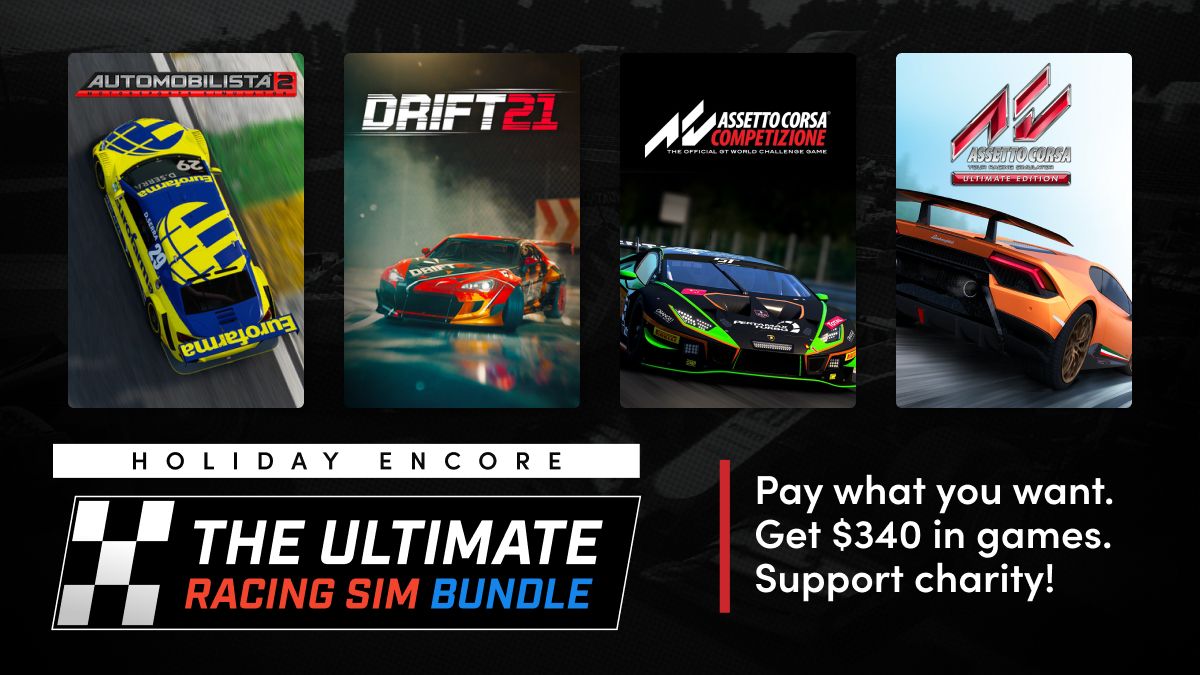 Check out the original bundle here.
Ride the slipstream around the globe in this bundle of the most authentic, comprehensive, and acclaimed racing sims around! Experience the realistic thrill and atmosphere of the GT3 championship in the VR-supported Assetto Corsa Competizione.
Buckle up for the comprehensive Brazilian motorsports sim Automobilista 2 (VR supported). Score a 3-month iRacing membership—your ticket to competitive online motorsports featuring NASCAR, IndyCar, Aussie Supercars, and more (VR supported). Tune your dream drift car and take on Japan's legendary EBISU circuits in DRIFT21. Immerse yourself in the racing realism of rFactor 2 (VR supported).
This time this re-bundle has only one tier: Pay $13 or more to get:
All games are delivered as Steam keys. Normally, the total cost for the games in this bundle is as much as $200.
Buy Humble The Ultimate Racing Sim Bundle Encore here
Quantities for our Holiday Encore game bundles are highly limited, and this bundle will no longer be available for purchase after supplies run out.
If you purchase the bundle, please be aware that keys may not be immediately available for certain games; we appreciate your patience while we work to restock them.
DISCLOSURE: IndieGameBundles uses affiliate links for Humble Bundle posts. If you like what we do and want to support us, you can click on the "Adjust Donation" button at Humble to fine tune where your money goes.