While a week after Black Friday is not the best week for free games, in this weeks list of free PC games we do manage to collects a handful of good free PC games you can grab for zero bucks!
Check out our updated weekly list of all the best AAA and indie free games this week, starting with Fort Triumph and RPG in a Box on Epic, new batch of free games with Amazon Prime and much more freebies!
Check out the list of free PC games for this week:
Hey, don't want to miss any free games in the future? Follow IndieGameBundles on Youtube, Twitter, Facebook or Steam to stay in the loop and get a notification when the next free game launches!
---
Our pick of new free games on Steam this week:
Most free games on Steam are either bad or are designed to drain you with microtransactions, luckily there are a couple PC games that recently launched on Steam as free and actually look pretty fun. Check them out:
Fu*k Hitler – Grab Adolf and throw him in the air, play with him as you see fit. You can also play with MP44 and grenades inflicting massive damage to him, and beat him over the head with his own artwork. Just don't let Ye see this game.
Light & Shadow –  a narrative-driven 2D platformer in shadow puppet form, where you face your anxieties, climb out of depression, and find the moments of joy in a grey world.
Siren Head: The Horror Experience – a horror game in which you look for missing teenagers while something is hunting you within the creepy woods. Similar to Slender-Man game.
At this time you can also grab one free DLC on Steam! Get a free World of Warships starter pack DLC here.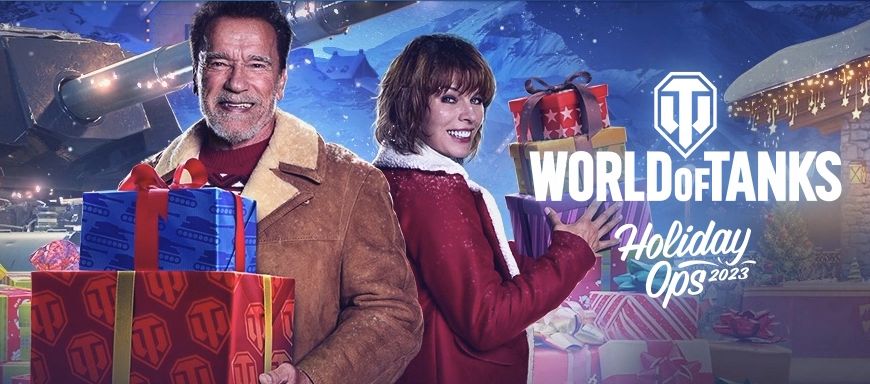 There's also free DLC for World of Tanks – Holiday Gift Pack. Hey, they even got Arnold Schwarzenegger and Milla Jovovich to advertise this! Get to da choppa! Well, not a choppa, but a tank. Available until January 9th 2023.
---
What's free at Epic Games Store this week?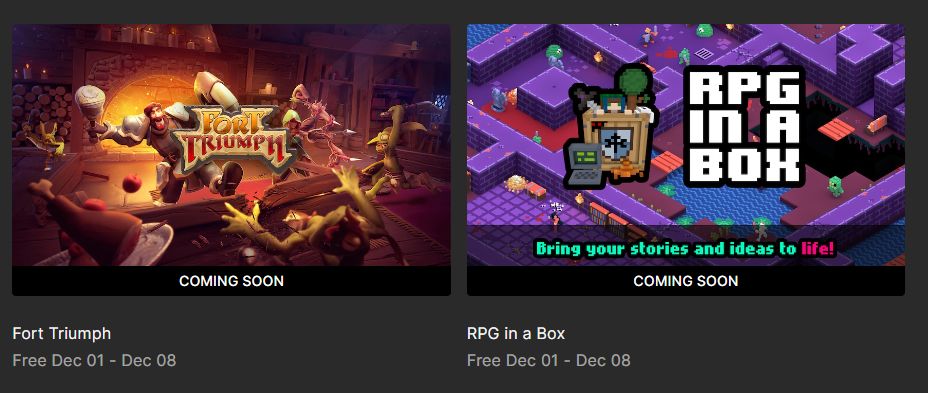 Epic Games Store is giving away two free PC game this week:
RPG in a Box: Create your own RPG! This RPG maker will be free to download at Epic Games Store until December 8th.
Fort Triumph: a strategy game like Heroes of Might and Magic crossed with XCOM. Grab it at Epic Games before December 8th.
NEXT WEEK at Epic you can get Saints Row IV Re-Elected and Wildcat Gun Machine!
---
Follow IndieGameBundles on Youtube, Twitter, Facebook or Steam to stay in the loop and get a notification when the next free game launches!
---
Any other new DRM-free free game deals?
Indie Gala is offering 10 free PC games for free at this moment. All of the following come as DRM-free downloads:
Currently there's just one freebie to download at Itch.io:
---
Get 3 FREE Coding Online Courses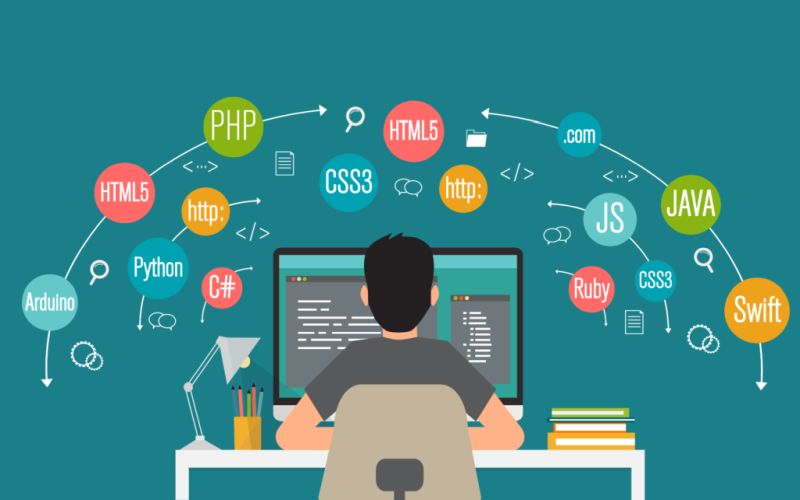 Courses Offered in this free bundle:
1 Hour CSS (Sheet-Style Language)
1 Hour Javascript (Programming Language)
1 Hour HTML (Markup Language)
---
Free Games With Amazon Prime for December 2022:
Got Amazon Prime?
List of free games anyone with Amazon Prime Gaming can get for free during the month of December 2022:
Quake – Defeat the ancient evil that threatens humanity by fighting corrupted knights, ogres and an army of twisted creatures across four dark dimensions of infested military bases, ancient medieval castles, lava-filled dungeons and gothic cathedrals in search of the four magic runes.
Rose Riddle 2: Werewolf Shadow – Solve the mystery of the Werewolf Shadow as Rose Riddle, a top sleuth and unwitting princess of the realm. Travel from one beautiful location to the next to collect evidence you need to solve the crime and stop the emerging disaster before it's too late.
The Amazing American Circus – Take charge of your run-down circus as you build your troupe, manage your circus camp, explore Gilded Age America and amaze your audience to become the leader of a show the world has never seen!
Banners of Ruin – Assemble your party! Answer the call and win the war by building a deck and fighting a series of turn-based combats with up to six characters through the city of Dawn's Point.
Brothers: A Tale of Two Sons – From visionary Swedish film director Josef Fares and top-tier developer Starbreeze Studios, guide two brothers simultaneously on an epic fairy tale journey by solving puzzles, exploring diverse locations and fighting boss battles to bring back the "Water of Life."
Spinch – From the award-winning Canadian cartoonist Jesse Jacobs, transcend the material realm as Spinch, a hyper-agile organism on a quest to rescue its litter of missing offspring in this side-scrolling, psychedelic platformer.
Desert Child – Escape Earth before it explodes by playing as a hungry, young hoverbike racer to hunt bounties, throw races and do whatever it takes to get to Mars and win the Grand Prix!
Doors: Paradox – Unravel this mysterious adventure about chaos by making your way through a variety of handmade 3D scenes in search of useful objects, discovering hidden clues to solve fun puzzles!
HOW TO CLAIM FREE GAMES WITH PRIME?
If you are Amazon Prime member: just head over here and claim the games.
If you are not Amazon Prime member: You can still get these games for free with a trial account. To get all the games listed above, just subscribe to Amazon Prime (that also includes Prime Gaming, previously know as Twitch Prime) FOR FREE. After the initial free trial period (that you can cancel anytime), Amazon Prime costs from $2.99 to $12.99 per month depending on your country. If you plan to "snatch games and cancel subscription", don't forget to unsubscribe!
Read more about it here.
---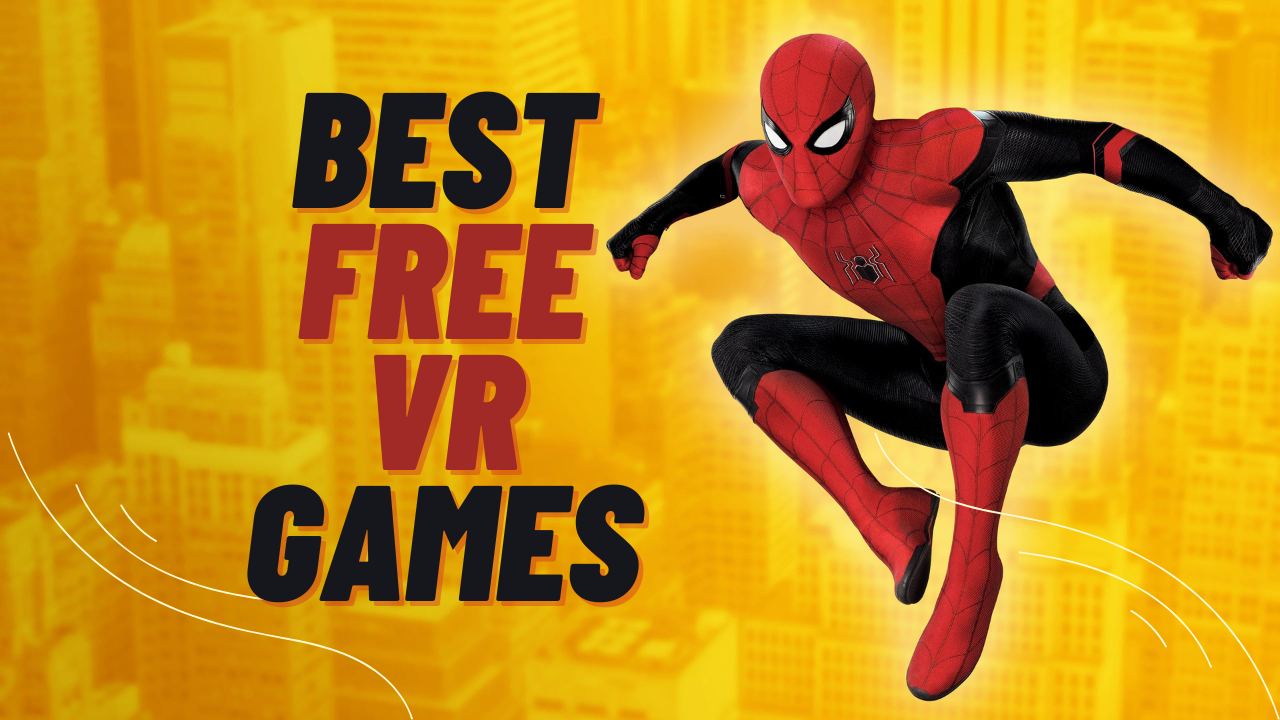 Check out my list of best VR games you can grab at the moment.
Other curated lists of free games on IndieGameBundles:
---
Want more free PC games? Follow us on Twitter, Facebook or Steam to get a notification of future free game giveaways.
To see what other free games we wrote about, check out the Freebies category.
To see what was free in the previous weeks, check out the "weekly update" tag.