If you like free PC games, look no further! Check out our updated weekly list of all the best AAA and indie free games this week, starting with Star Wars: Squadrons on Epic, Tom Clancy's Splinter Cell on Ubisoft Connect and much more freebies!
Check out the list of free PC games for this week:
Hey, don't want to miss any free games in the future? Follow IndieGameBundles on Youtube, Twitter, Facebook or Steam to stay in the loop and get a notification when the next free game launches!
---
Our pick of new free games on Steam this week:
Most free games on Steam are either bad or are designed to drain you with microtransactions, luckily there are a couple PC games that recently launched on Steam as free and actually look pretty good. Check them out:
Witchpunk – Play as a skateboarding witch who battles against a tyrannical corporation seeking to destroy Halloween. Gain speed on your skateboard and use your hammer to deliver devastating melee attacks!
Avani – Join Avani in this action-adventure game where you will explore this corrupted land, fight the evil that hides within and cleanse it from the spirit before it destroys the world.
Morendo – Morendo is a point & click adventure game about a concert guitarist whose life takes dramatic turns after his performance. Join him and meet peculiar characters that are waiting for you in the Voyeur. Interact with them and step behind the curtain of betrayal, lust and the facade of show business.
At this time you can also grab one free DLC on Steam! Get a free World of Warships starter pack DLC here.
You can still get Garfield Kart Furotious Racing Steam key in a giveaway by Fanatical.
---
Terroir is free on GOG until Nov 28th 3 PM CET
Act fast to get this one, the promo ends Monday, November 28th. It's a winemaking tycoon game! Surely not for everyone but if you'd like to make some Cabernet Sauvignon, head over to GOG and grab this freebie. More about it here.
Get Tom Clancy's Splinter Cell free at Ubisoft Connect
Download this legendary stealth game for free at Ubisoft Store for a limited time! Get your free copy of Tom Clancy's Splinter Cell on Ubisoft Connect before November 30th!
The link is for the US store, if you're from outside US, search for the game in your local store and add it to your cart.
What's free at Epic Games Store this week?
Epic Games Store is giving away one free PC game this week:
Star Wars: Squadrons: fly a Tie fighter or an X-wing, solo or in multiplayer. VR owners will be pleased to know that this game supports all the modern VR headsets! Star Wars: Squadrons will be free to download at Epic Games Store until December 1st.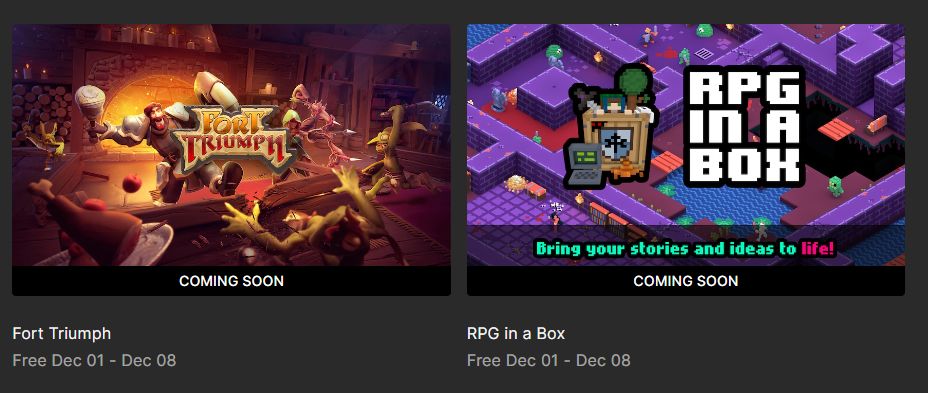 NEXT WEEK at Epic you can get Fort Triumph and RPG in a Box.
---
Follow IndieGameBundles on Youtube, Twitter, Facebook or Steam to stay in the loop and get a notification when the next free game launches!
---
Any other new DRM-free free game deals?
Indie Gala is offering 9 free PC games for free at this moment. All of the following come as DRM-free downloads:
Currently there's just two freebies to download at Itch.io:
Kristallijn – a short first-person ambient game experimenting around the strobe effect.
Rivet – Explore an atmospheric, snowy world as Rivet, a cute steampunk robot, as you uncover the secrets hidden beneath the snow.
---
Get 3 FREE Coding Online Courses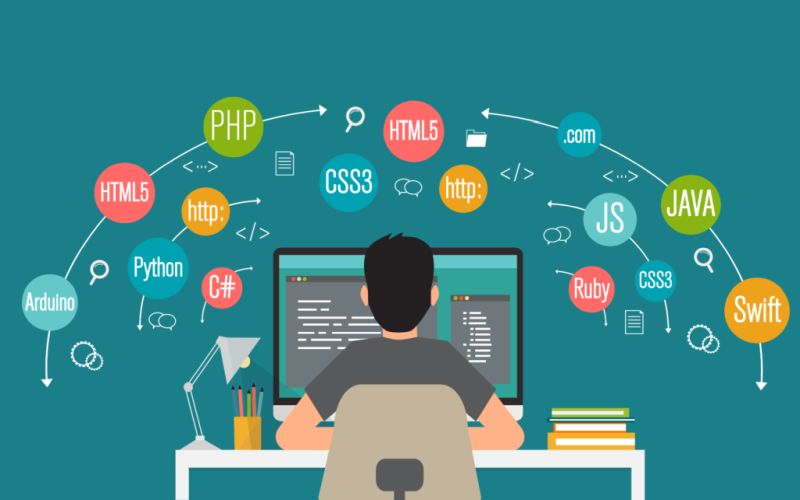 Courses Offered in this free bundle:
1 Hour CSS (Sheet-Style Language)
1 Hour Javascript (Programming Language)
1 Hour HTML (Markup Language)
---
Free Games With Amazon Prime for November 2022: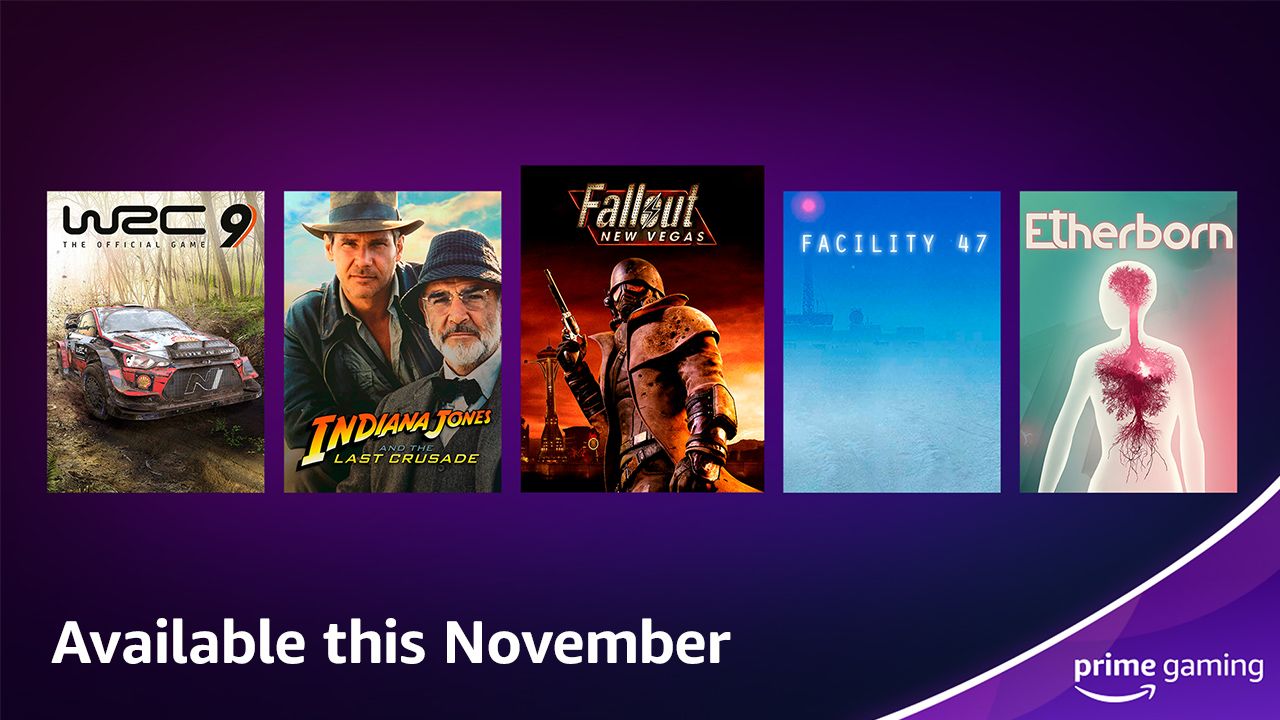 Got Amazon Prime?
List of free games anyone with Amazon Prime Gaming can get for free during the month of November 2022:
Fallout: New Vegas Ultimate Edition – Traverse the post-apocalyptic Mojave Wasteland in search of the men who wronged you in your past. Fight your way to exact revenge, all while making an impact on thousands of post-apocalyptic desert dwellers in the process.
Indiana Jones and the Last Crusade – From LucasArts and Disney comes the point-and-click classic adventure set in Europe, 1938. The Lost Ark was just a warm-up! A great evil is after the most powerful talisman of all – the Holy Grail. A few brave men stand in the way. Fortunately, one of them is Indiana Jones. And this time, he has his dad with him.
Facility 47 – Journey through a remote research facility in the depths of the freezing Antarctic tundra, solving thrilling puzzles along the way and unlocking new locations around the Facility.
WRC 9 – Zoom through tracks around the world in the leading off-road simulation franchise, now with even more realistic gameplay and more content than ever: three new rallies, 35 new special stages, the ability to create your own custom championships and entirely redesigned engine sounds!
Etherborn – Go forth and seek your purpose as you delve into an environmental puzzle platformer built on exploring and understanding mind-bending, gravity-shifting structures.
Whispering Willows – Interrelate with the spirits of the dead, solve the complex puzzles of the mysterious mansion and help Elena find her missing father in this horror/adventure puzzle game.
Last Day of June – An interactive, deep, cinematic adventure story centered around love and loss, Last Day of June asks players, "What would you do to save the one you love?"
HOW TO CLAIM FREE GAMES WITH PRIME?
If you are Amazon Prime member: just head over here and claim the games.
If you are not Amazon Prime member: You can still get these games for free with a trial account. To get all the games listed above, just subscribe to Amazon Prime (that also includes Prime Gaming, previously know as Twitch Prime) FOR FREE. After the initial free trial period (that you can cancel anytime), Amazon Prime costs from $2.99 to $12.99 per month depending on your country. If you plan to "snatch games and cancel subscription", don't forget to unsubscribe!
Read more about it here.
---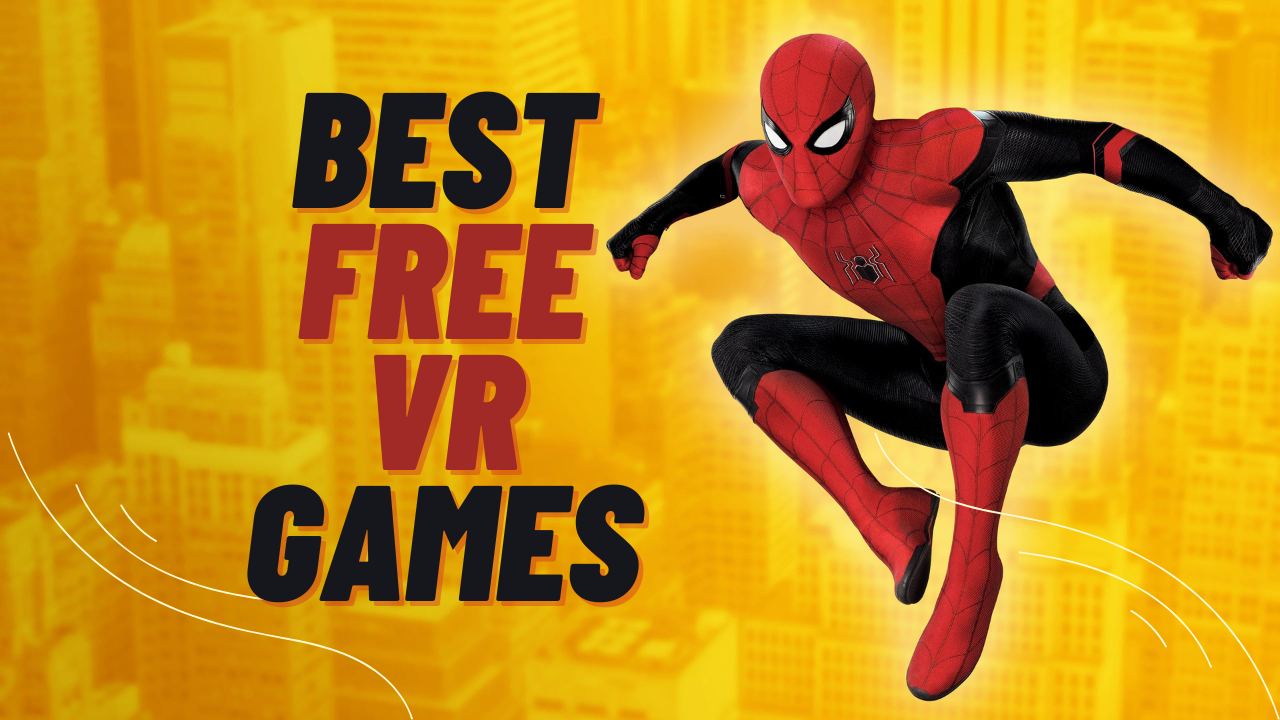 Check out my list of best VR games you can grab at the moment.
Other curated lists of free games on IndieGameBundles:
---
Want more free PC games? Follow us on Twitter, Facebook or Steam to get a notification of future free game giveaways.
To see what other free games we wrote about, check out the Freebies category.
To see what was free in the previous weeks, check out the "weekly update" tag.